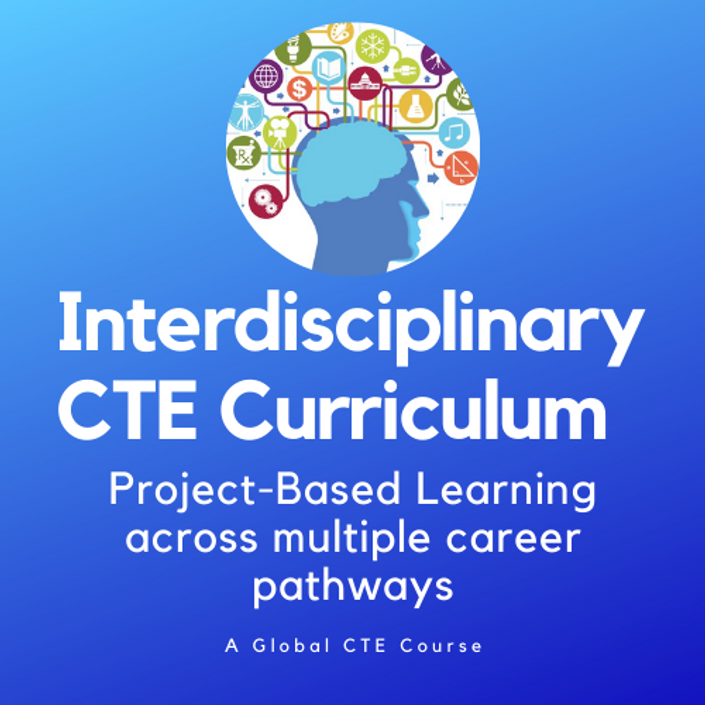 Interdisciplinary CTE Curriculum
Designed to enhance instruction and learning with content for CTE students aligned to relevant skills in a variety of career pathways
The Global CTE, Interdisciplinary CTE Curriculum modules are designed for CTE teachers in Business, Marketing, and Family & Consumer Sciences to enhance what you are already doing with interdisciplinary learning and content.
These modules support and provide instruction and learning for students in a variety of career pathways and are aligned to relevant skills and content. Modules also focus on developing transfer skills, career-oriented focus, and both technical and academic performance.
These digital resources include everything you need to teach a specific module. Contents typically include six 45 minute mini-lessons, 6 mini-activities, and 3 capstone projects for students to choose from. In addition, an instructor slide deck and presenter notes for teaching will be included that give an overview of how to deliver the curriculum.
Global CTE Interdisciplinary Modules
Modules (8 total)

Taught a la carte or embedded modules into a course
48 total mini-lessons with 6 mini-performance tasks to demonstrate learning

Learning Objectives for each module (3)
Skill competencies for each module (3)
Knowledge competencies for each module (3)
Student Materials include:

Videos
Instructional strategies
Articles

Instructor materials
Capstone Project that offers 3 options for students to choose from
Capstone Rubric for each module
Overarching Competencies
Critical Thinking/Problem Solving: Students identify problems and develop multiple solutions using a thoughtful and creative approach.
Collaboration: Students work together in a variety of settings to achieve a common goal.
Communication: Students process and convey information to effectively communicate a message.
Global Interdependence: Students seek to understand the views, values, and cultures of others
Design: The application of aesthetic principles, natural beauty, social and cultural principles to create a new idea or concept.
Construction: The creation of a 3 dimensional concept or idea that conveys the idea in a way that is artistically sound and visually pleasing.
Marketing: The action or business of promoting and selling products or services, including market research and advertising.
Module Competencies for Students
Students will create an NBA team in an international city.
Students will design and construct a regulation NBA stadium that is mathematically sound and aesthetically pleasing.
Students will demonstrate the use of distribution methods and logistics for tickets and fan apparel.
Students will design and merchandise a window for prospective client that displays artistic elements and principles.
Students will construct props, mannequins, and a 3D window that is appealing to the target audience.
Students will use architectural principles such as technology, structure, materials, and geometry to create the window.
Students will create a global magazine advertisement in both print and digital format that generates excitement for a product.
Students will demonstrate and display the use of artistic principles in their global advertisement.
Students will illustrate an advertisement that connects to their customer through multiple communication channels.
Students will design a movie experience for their customers that honors the new wave of cinema and habits of their target market.
Students will outline a technologically supported movie experience that supports either: 1) At-home movie release 2) Drive-in Movie 3) Streaming series release
Students will create a marketing plan that supports their movie release and engages their target market.
Students will create a non-profit company that serves a global problem.
Students will design and construct apparel that can be sold to support their global non-profit.
Students will demonstrate passion and diligence in helping support a global cause.
Students will apply budget traveling skills to their selected travel destination and not exceed the given cost allotted.
Students will create a plan to travel that provides historical takeaways and personal connections.
Students will demonstrate the ability to value multiple views, values and perspectives both in their home country and while abroad.
Students will design a room that demonstrates the ability to apply color, principles, and elements of interior design.
Students will construct a floor plan that showcases their ability to apply creativity and design vision.
Students will use trend forecasting to influence their designs and market them to the target audience.
Students will identify problems and develop multiple solutions using a thoughtful and creative approach.
Students will create a business plan based on market research and execute the plan to meet customer needs.
Students will collaborate with multiple departments within a business work cross-functionally to achieve the company's mission and goals.
Your Instructor
The Global CTE Curriculum Team is composed of experienced educators, industry experts, CTE administrators, and curriculum designers. Our team believes in creating relevant content and tools to prepare our students for the modern global workforce.
Course Curriculum
Welcome To Interdisciplinary CTE Curriculum
Available in days
days after you enroll
Culinary & Marketing
Available in days
days after you enroll
Marketing & Interior Design
Available in days
days after you enroll
Frequently Asked Questions
When does the course start and finish?
The course starts when the instructor is ready. The teacher is in full control of the pace and delivery of the content - you decide when your classroom starts and when you finish. Remember, the license is for one year and begins at the agreed upon date sent in the course confirmation email.
How long do I have access to the course?
After enrolling, you and your students have one year licensed access to this course across any and all devices they own. You will be asked to renew your license at the end of your 12 months if a multi-year license is not purchased.
How long does each module take?
On average each module is set up to take approximately 90 mins of instruction to complete. Student activities can be completed in class or as homework assignments. Some educators use a flip model and have students read and watch videos out of class and work on projects during class. This can cut time if needed.